LGEAN Webinars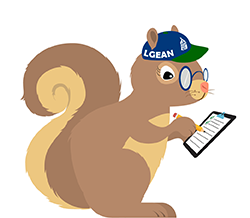 Spill Prevention, Control and Countermeasure (SPCC) Rule 101 for Local and Tribal Governments
While oil discharges often elicit memories of the Deepwater Horizon oilrig explosion and oil tankers like the Exxon Valdez running aground, many oil discharges in fact originate with non-transportation, onshore facilities. These onshore non-transportation related facilities include but are not limited to, oil storage terminals, bulk plants, refineries oil production/exploration operations and facilities that are end users of oil. This includes facilities owned and operated by local and tribal governments. Oil discharges can originate with any facility where oil is stored, such as tribal or local government fueling areas for motor pools, police and fire stations, water treatment plants, sewage treatment plants, road maintenance facilities, sewer pump stations, and emergency generators. The Spill Prevention, Control, and Countermeasure (SPCC) Rule, promulgated under the Federal Water Pollution Control Act or Clean Water Act (CWA), aims to prevent oil discharges from reaching navigable waters or adjoining shorelines. The SPCC Rule requires facilities that reach certain threshold storage requirements to develop and implement SPCC plans, among meeting other obligations. By complying with the SPCC Rule, local and tribal governments can help avoid oil discharges that can ultimately harm inland and coastal waters. Local and tribal environmental agencies are also key to monitoring private facilities for SPCC noncompliance in order to prevent the devastating consequences an oil discharge can have for both natural resources and affected communities.
Additional Resources:
https://www.epa.gov/oil-spills-prevention-and-preparedness-regulations
Panelists:
Cynthia R. Harris, Deputy Director, Center for State, Tribal, and Local Environmental Programs, Environmental Law Institute, Moderator

Mark Howard, Oil Spill Prevention Program Manager and Senior SPCC Advisor, U.S. EPA

Kelly Brantner, Attorney, Office of Enforcement and Compliance Assurance, U.S. EPA

John Kosco, Environmental Engineer, Office of Compliance, Water Branch, U.S. EPA


---
Clean Air Act Regulations for Natural Disaster Management
Natural disasters can have catastrophic impacts on community air quality, even after the initial event has passed. Destruction from hurricanes, earthquakes, and wildfires can release massive quantities of air pollutants, including particulate matter. Recent major blazes in California spurred serious concerns about asbestos and other toxins released by the wildfires. 2017's Hurricane Harvey triggered the release of an estimated 5.7 million pounds of hazardous chemicals, including benzene and volatile organic compounds. Critically, local and tribal governments themselves may be the source of contaminants, such as through the use of incinerators to clean up debris.

Join our panel of experts from the U.S. Environmental Protection Agency as they guide local and tribal governments on federal requirements that may be triggered during post-disaster recovery. Panelists will discuss compliance obligations focused on managing asbestos, use of emergency engines, and destruction of disaster debris through incineration, and share other resources to guide post-disaster recovery.
Additional Resources:
lgean_clean_air_act_regulations_webinar.pdf
Panelists:
Cynthia R. Harris, Director, Tribal Programs; Deputy Director, Center for State, Tribal, and Local Environmental Programming; and Staff Attorney, Environmental Law Institute, Moderator

Sara Ayres, Mechanical Engineer, U.S. Environmental Protection Agency, Office of Enforcement and Compliance Assurance, Office of Compliance

John Cox, Physical Scientist, U.S. Environmental Protection Agency, Office of Enforcement and Compliance Assurance, Office of Compliance

Marcia Mia, Chemical Engineer, U.S. Environmental Protection Agency, Office of Enforcement and Compliance Assurance, Office of Compliance


---